These shoes were seen in the fall 2022 runway
Shoes are playing a very important role in your outfit they can make you win the Oscar Award or The Golden Raspberry Award.
according to the fall 2022 runway, these shoes are super trendy.
in this note, I arrange the trendy shoes from my most favorite to my least favorite.
1. Pointed toe kitten heel shoes
in the world of chunky clogs and super-high platforms, be a pointed-toe kitten heel.
They are so clean sharp and feminine.
The awesome point of these shoes is they are very comfortable besides their fancy gorgeous style.
in this season's runway, we saw them in Carolina Herrera and Molly Goddard.
ribbon-tied sandals
I'm a huge fan of ribbon shoes you can show up your creativity with the different styles of tying ribbon.
bow tying them is my favorite style it's so fancy and dramatic.
you can style it solo or wear these shoes with tights (like monogram tight) to show versatility.
we saw them on Kim Shui's (The New York-based label) runway.
The combination of knee-high boot and bow tie detail in Carolina Herrera FW22 absolutely stole my heart, it's so feminine and romantic.
you can wear them with a midi or mini dress and looks amazing.
in my opinion, loafers are timeless pieces, it's may you wore them 10 years ago, you can wear them now and definitely next 10 years.
Loafers give you comfy guaranteed, for all day long so they're the best choice for work or daily outfits.
Telfar in FW22 gives us a clean, classic, and super chic, Telfar's logo-stamped loafers.
5. Leather socks and sandals
before Altuzarra runway, if you talked with me about the sandals and socks combination I said I hate this trend and I think they look so odd but Altuzarra with these leather socks and sandal change my mind (OMG they are super fashionable together)
flexible pumps with beaded ankle straps from Ulla Johnson have a handmade bohemian vibe.
you know I'm always a huge fan of comfy shoes, I think T-straps with block heels are so comfortable and timeless.
coach shiny T-strap is one of my favorite styles of them, they are very modern.
8. Victorian-style brogues
We are so close to the end of this list.
Victorian-style brogues with ribbon laces graced the Paul & Joe runway for fall.
I'm really not with this kind of shoes, they may get attention in runways, or get the trend for short time. but I think they belong to the past.
if you want to buy one of them I'm offering to buy a flat one.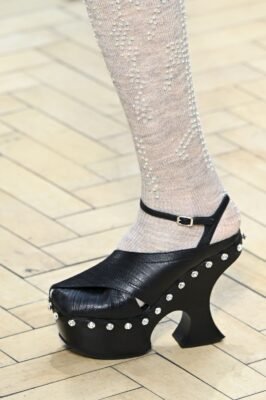 we are at the end of the list, and the worst shoe.
I'm really don't like any kind of clogs or even better to say, I hate clogs.
I'm don't even wear them for free, I can't believe that people pay hundreds or thousands of dollars for them.
they're so unfashionable, ugly, and have everything to ruined out your outfit style.